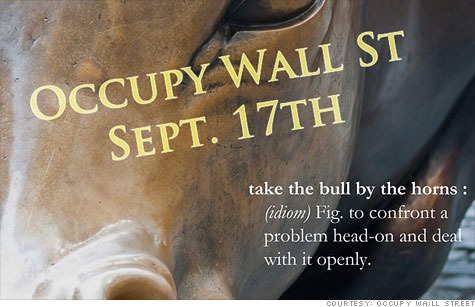 A Flyer for Occupy Wall Street
Ask about my discount this week
ALL ABOUT YOU & YOUR RELATIONSHIP
shoot me an email at
jean@jeanwiley.com
Demonstrations are heating up as the Uranus/Pluto energy is clearly being outwardly manifested here in the US.

The Occupy Wall Street movement is propagating to more cities and towns across the country in what is now termed
Occupy the Planet

.
We are firmly in the era of individuals speaking truth, no longer content to go along in collusion with the power entities which have been "hiding and abusing" truth. "One hero cannot do it. Each one of us have to be heroes," stated John Lennon. And, please give a listen to this original song,
"A Truth Anthem"
by Jordan Okrend it's beautiful and in my mind embodies the right use of energy as we speak out and act upon injustices.
Similar to the Arab Spring, these acts of civil disobedience (asserted by the NYPD when protesters from the Occupy Wall Street movement marched across the Brooklyn Bridge—and were arrested by police) are the result of individuals collectively gathering to speak out. Notice that Pluto turned direct on the 16th in the bureaucratic sign of Capricorn – the protestors first began to congregate in lower Manhattan on the 17th. Astrologers don't make this stuff up, folks :).
The lover of beauty, art, justice, and all things esthetic is making her much loved connections this week. Venus will remind us that love, understanding, and compassion are our best energetic forces during these transformative times, which continue to encourage us to stretch, grow, change, and be brave.
On Friday, Neptune trines Venus. This is a day when inspiration and aligning with compassion come easily. Venus then trines informative and healing Chiron as she moves out of Libra and into Scorpio. Passion is the energetic force of Scorpio and her transit will deepen the stakes in both love and money.
The Full Moon shines in Aries at 18 degrees on the 11th and reaches fullness at 9:06 p.m. EST. This lunation opposes Saturn in Libra, highlighting responsibilities, commitments, and, for some, breaking points. The Sun Saturn conjunction moves towards us with heavy steps on Thursday, bringing more follow through and focus around issues highlighted at the Full Moon. There are things to be handled – no shirking allowed.
Venus sextiles Pluto on the 13th as Mercury joins her in investigative Scorpio. This can be an important day for finances. The Sun's conjunction to Saturn will see some make binding financial agreements or experience a financial breakthrough. Mercury takes up where Venus left off earlier in the week when it trines both Neptune and Chiron – bringing planning and communications to our affections and desires.
Order your Fall Sun Sign Report - $10.99 (Oct. – Dec.)
ARIES: Your very own personal, once-a-year Full Moon takes place in your sign on the 11th and awakens what were previously unconscious urgings within you. Know that this is important and useful information designed to take you to the next level of your personal identity makeover. Responsibilities are very apparent in regard to your relationships but help is on its way and is there for you in your "next steps." The planets gather in your 8th house of sex, shared resources, finances, and psychological health. Scorpio encourages getting in touch with your inner drives, fantasies, and the health of your emotional partnership.
TAURUS: Partnerships are the focus now as Venus and then Mercury enter your 7th house of others. Your ruling planet is very active this week, enticing you to connect with others in a communicative and loving way. This is the time of the year for Taurus to ask for favors, promote themselves, and to make commitments within partnerships – business and otherwise. The Full Moon highlights some hidden bits which could be the real intentions of others. It also unearths your inner motivations and drives. The 13th is significant for your work, health, money, and partnerships.
GEMINI: The action shifts from your 5th house of love and laughter into your 6th house of mind/body connectedness, your daily routines, and those you work with if employed. Significant insight and support is headed your way towards the end of this week as creative and healing discussions unfold. A situation concerning children, creative projects, or love affairs requires a deeper commitment from you. The Full Moon brings serious awareness regarding your social life and friendships.
Order your Fall Sun Sign Report - $10.99 (Oct. – Dec.)
CANCER: The Full Moon may bring up issues around security, work, home, authority figures, and/or parents. There are some serious scenarios for you to ponder and the Sun/Saturn conjunction on the 13th sees you taking careful and prudent steps. Family members require careful handling and respect now. Money, contracts, and negotiations are part of this picture and support your efforts on the work and home front.
LEO: The planets begin to gather at the base of your chart indicating a time for kicking back, fluffing up the couch pillows, inviting some folks in, and nesting just a tad. Mars is still vitalizing your persona and physical stamina, so go forth and, well, do things! The Full Moon in fellow fire sign Aries brings conclusions around your big picture adventures, travels, and educational plans. The Sun/Saturn conjunction occurs in your 3rd house of communications, attitudes, automobiles, siblings, and neighbors.
VIRGO: Finances are definitely highlighted this week. The Full Moon may bring some deep things to ponder as some previously unforeseen restrictions come to your attention. Commitments may be made or arrangements declined under this energy combination. Mercury is serving up solutions with a little magic thrown in – look deeper into possibilities and by the 13th you'll feel ready to push on - negotiations and money bearing contracts may very well be part of the picture.
Order your Fall Sun Sign Report - $10.99 (Oct. – Dec.)
LIBRA: You are earning your stripes aren't you? More is on the way as the Full Moon highlights and "contrasts" what others want from you and what you may not be ready or willing to give. Responsibility is even further elevated as the Sun/Saturn conjunction clarifies and anchors. Your ruling planet Venus provides a softening of Saturn's edges as she trines Neptune in your 5th house of love and then sextiles Pluto from your 2nd house of money and material resources.
SCORPIO: You are being gently awakened from your yearly slumber and introspection as Venus and then Mercury take up occupancy in your sign. Circle the 13th as an empowered day for communications as Venus sextiles Pluto in your 3rd house of contracts, siblings, and neighbors. The Full Moon ramps up activities in your work and daily schedule – you'll have a busy few days with pressure to get things done. The mind/body connection is highlighting the parallels of wellness between your feelings and your health.
SAGITTARIUS: As your social life quiets your inner world alights. You are finishing up your solar year and a necessary emptying out and going within period commences. The Full Moon speaks of understandings within romantic involvements – a level of commitment or an acknowledgement of restriction? Responsibility or a feeling of limitation is experienced within your social exchanges as the Sun conjuncts Saturn on the 13th.
Order your Fall Sun Sign Report - $10.99 (Oct. – Dec.)
CAPRICORN: Saturn is a major player this week in your 4th house of home, family, and parents as he stands firmly, hands on hips, across the hall from the Full Moon in the opposite sign of Aries in your 10th house of reputation and life directions. When the Sun conjuncts Saturn on the 13th you will know what to do and what resources are required regarding your personal life and home. Venus snuggles up to Pluto in your sign and a female friend lends a hand and, possibly, an offer.
AQUARIUS: Career, reputation, and authorities— whoever they are—are accented as first Venus, then Mercury, and later the Sun gather in Scorpio at your midheaven. Penetrating insights are yours for the taking, deepening your connection with your purpose and life direction. The Full Moon in your 3rd house brings closure to contracts, automobiles, and communications – repairs may be required and any commitments carry binding and serious attachments.
PISCES: The heaviness begins to lighten as the personal planets exit your 8th house of psychological conditions and move into the more outwardly attuned 9th house of plans, adventures, teaching, travel, and legalities. The sign of Scorpio provides an easier flow to your emotional essence. This is the time of year to focus on loftier goals and educational leanings. The Full Moon may see the end of a source of income or final decisions regarding your stuff – perhaps you are buying or selling?
Order your Fall Sun Sign Report - $10.99 (Oct. – Dec.)